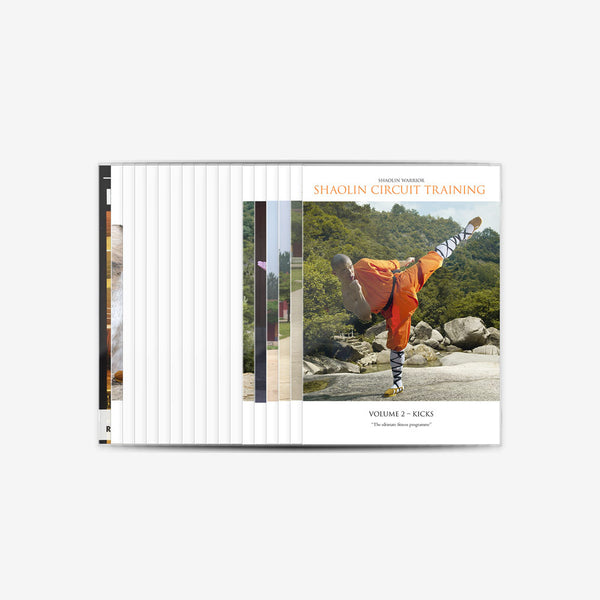 Shaolin Kung Fu and Qigong – 14 x DVD Bundle
Shifu is no longer restocking his DVDs now that he offers online programs. He originally had 24 DVDS but as they go out of stock this is now down to 16. They are still available as downloads. The (almost) complete Shaolin range of DVDs are designed to guide you through the authentic Shaolin teachings of Qigong and Kung Fu. Offering a graded teaching system with exercises and practices direct from the Shaolin Temple in China, Shifu Yan Lei takes you on a journey towards spiritual and physical health and well-being. Please see detailed descriptions of each DVD on previous pages. We are phasing out DVDs and many have sold out so there are only 19 of Shifu's DVD programs in stock. The price has been reduced to reflect this.
Please note, not all of the DVDs will play on a USA DVD player.

Click here for more info on DVD formats.
Please see individual listings for more details and trailers.
The 14 DVD Bundle consists of. Some of these are not sold out. 
Instant  Health: The Shaolin Qigong Workout For Longevity (region 0)
Qigong for Upper  Body (region 0)
Shaolin Bootcamp 1 & 2 (region 0)
Shaolin Circuit Training 2 (region 0)
Fighting Punches & Kicks - 2 (region 0)
Shaolin Workout ( 1,2,3) (PAL or NTSC )
The Way Of Qigong (1,2,) (PAL) 
Shaolin Fitness & Wellness Program  2 (region 0)
Kung Fu Ch'an (PAL)
Kung Fu Journey (PAL)
The Essential Shaolin Stretching Program ( region 0)