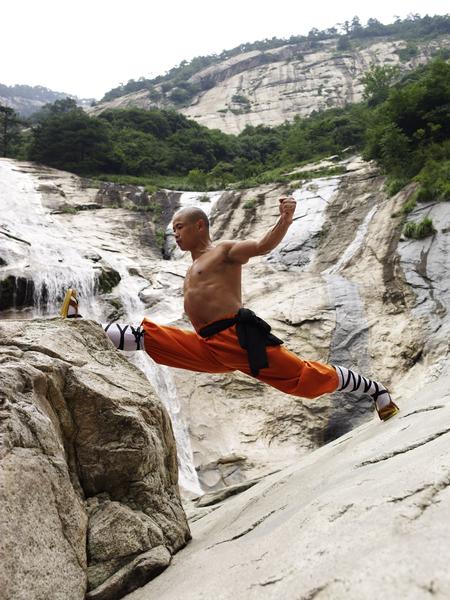 Ultimate Flexibility
Shifu Yan Lei invites you to take part in the 20 Day Flexibility Workout. Every movement in this program is designed to increase the flexibility of your whole body.  You will learn how to make your body the optimal temperature for flexibility training and then stretch your muscles and tendons.
The key to ultimate flexibility is a combination of static and dynamic stretching. It's not possible to gain the flexibility of a Shaolin Monk with static stamina alone. This is how Shaolin Monks have always gained exceptional flexibility and this has been proven by latest research in a book called The First 20 Minutes. 
In this teaching program, every movement you learn will be used to stretch and energise your muscles. A tight or tense body can't be flexible but a Shaolin Monk's flexibility also has to have power, speed and fluidity. You will learn how to direct flexibility into fluid movements. 
Whether you practice Shaolin, are an athlete, martial artist, or simply want more flexibility, this practice will ease tight muscles and restore your flexibility. 
This course is suitable for complete beginners and advanced students.
 The course includes:
20 Training Sessions with Shifu Yan Lei ( less than £7.00 per session)
Sessions of 60 - 90 minutes
You will learn:
Stretching 
5 Fundamental Stances
5 Fundamental Kicks
How to prepare the body for maximum flexibility 
The optimal temperate for stretching to prevent injury
 How to do static and dynamic stretching
How to stretch the whole body including the muscles and tendons 
It's recommended to do 5 sessions per week. The sessions are streamed so, anytime, anywhere, you can access the videos. The links are available for 12 months after the course has finished. 
How it works
Simply add to cart and make payment. 

Shortly after you will receive log in information so you can access the course.

All of the sessions are available on your personal dashboard making it easy to track your progress. 
There are 20 sessions in total. 5 days a week for 4 weeks. Each session will be approximately one hour to one and a half. You can do the sessions at a time and day to suit you. The links will be available after the course has finished for 12 months
Click HERE to read more about the science of stretching
Requirements For Learning:
You must be 18+
You must make a commitment to train 5 days a week
You will need:
a space the size of a yoga mat to practice. 
60 - 90 minutes, 5 days a week. 
Refunds will not be given. By paying this fee you agree to these terms and conditions ( see the bottom of terms and conditions page). 
No refunds are available on this course. You must be over eighteen years old and be in a good physical condition to attend this course. You should understand that when participating in any exercise or exercise program, there is the possibility of physical injury. If you engage in this exercise or exercise program, you agree that you do so at your own risk, are voluntarily participating in these activities, assume all risk of injury to yourself, and agree to release and discharge Shifu Yan Lei and Shifu Yan Lei Media from any and all claims or causes of action, known or unknown, arising out of Shifu Yan Lei and Shifu Yan Lei Media's negligence.